How To Become Swedish In 60 Minutes
Biljetter till How To Become Swedish In 60 Minutes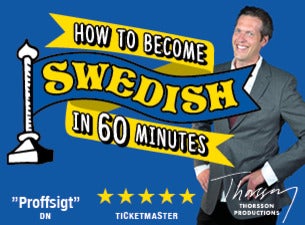 NIKLAS ENGDAHL
HOW TO BECOME SWEDISH IN 60 MINUTES
Lär dig allt du behöver veta om att vara svensk på bara en timma! Du lär dig att gå, prata och föra dig som en helt vanlig svensk. Dessutom lär du dig konsten att bilda en kö med endast två personer.Föreställningen är mycket mer än bara en stand up-rutin, det är en rolig blandning av skarp och visuell observation av det svenska mänskliga tillståndet, deras attityder, kamp och vardag.

In seeing "How to become Swedish in 60 minutes" you will learn everything you need to know about being Swedish, in just one hour. You will learn how to walk, talk and behave like a regular Swede. Additionally you will learn how to form a line with just two people. The show is much more than a stand up comedy routine, it is a hilarious blend of incisive and visual observation of the Swedish human condition, their attitudes, struggles and everyday life. You will laugh and learn and at the end of the show leave the theatre felling 100% Swedish.
4 evenemang med How To Become Swedish In 60 Minutes
4 Evenemang